Chocolate fudge brownie recipes, including chocolate fudge sauce recipe.
Also, how to make an easy homemade chocolate blondie recipes.
---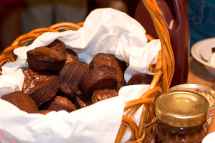 Be careful not to over-bake your homemade brownies. Cooling them as much as possible in the baking tin will help to keep them moist longer.
Want a low-fat recipe? Go to low fat recipes page.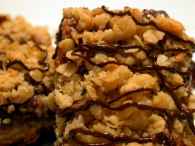 The following fudge recipe is a simple and easy recipe with the classic chocolate fudge sauce.
By adding the fudge chocolate sauce you will upgrade this treat into a sumptuous pudding.
Ingredients
100g plain chocolate, finely chopped
125g unsalted butter, at room temperature
275g caster sugar
1 teaspoon of vanilla essence
2 large eggs, beaten
85g plain flour
2 tablespoons cocoa powder
a pinch of salt
100g pecan nut halves or walnut pieces
Prepare a cake tin, 20cm square, buttered and base-lined
Preheat the oven to 180C, 350F, gas 4.
Place the chocolate into a heatproof bowl over a saucepan of hot water, or see melting methods.
Put the butter into a large mixing bowl and, using a wooden spoon or electric mixer, beat until soft and creamy. Add the sugar and vanilla essence while continuing to beat well until the mixture is light and fluffy. Then gradually beat in the eggs.
Sift the flour, cocoa, and salt onto the mixture, then spoon the melted chocolate on top and gently stir together until smooth and thoroughly mixed. Stir in the nuts. Spoon the prepared mixture into the prepared tin and level the surface.
Bake in the oven for 30 to 35 minutes, until a skewer inserted halfway between the centre and the edge comes out clean; it is important that the centre is just set but still slightly soft and not cake-like.
Let it cool while still in the tin, then remove from the tin and cut into 16 squares. Eat warm at room temperature.
Store in an airtight container; best eaten within five days, or can be frozen for up to one month.

---
Recipe to make fudge brownies with chocolate fudge sauce
Ingredients
175g plain chocolate, finely chopped
40g unsalted butter
2 tablespoons caster sugar
2 tablespoons golden syrup
175ml milk or single cream
To make the chocolate sauce, put all the ingredients into a small, heavy-based saucepan and set over low heat. Stir gently until melted and smooth. Continue heating and stirring until the mixture is almost at boiling point.
Remove from the heat and serve immediately.
The sauce will thicken as it cools.

Nut and chocolate chip brownies
Ingredients
150g of plain chocolate, chopped into small pieces
120ml of sunflower oil
215g light muscovado sugar
2 eggs
5ml of vanilla essence
65g self-raising flour
60ml cocoa powder
75g walnuts or pecans, chopped
60ml milk chocolate chips
Preheat the oven to 180C, 350F, gas 4 and grease a 19cm shallow square cake tin.
Melt the chocolate, - see melting tips.
Beat the oil, sugar, eggs, and vanilla essence together in a large bowl. Stir in the melted chocolate, and then beat until well mixed and a smooth consistency.
Sift the flour and cocoa powder into the bowl and fold in thoroughly. Stir in the chopped nuts and chocolate chips, tip into the prepared tin, and spread evenly.
Bake for 30-35 minutes. Remove and cut into squares. Makes 16 pieces.

White chocolate brownies with milk chocolate topping
Add the nutty topping you like best.
Ingredients
115g plain flour
2.5ml baking powder
pinch of salt
175g fine quality white chocolate, chopped into small pieces
115g caster sugar
115g unsalted butter, chopped into small pieces
2 eggs lightly beaten
5ml vanilla essence
175g plain chocolate chips or plain chocolate, chopped into small pieces
For the topping
200g milk chocolate, chopped into pieces
175g unsalted macadamia nuts, or other nuts of choice
Preheat oven to 180C, 350F, gas 4, and grease 23cm spring form tin.
Sift together the flour, baking powder and salt and set aside.
In a medium saucepan over a low heat, melt the white chocolate, sugar, and butter until smooth, stirring frequently.
Cool slightly, then beat in the eggs and vanilla essence. Stir in the already sifted flour mixture until well blended. Stir in the chocolate chips or chopped chocolate.
Spread evenly in the tin.
Bake for 20-25 minutes, until a skewer comes out clean, but do not over-bake. Remove from the oven, and sprinkle the chocolate for the topping over the brownies. Then place in the oven for 1 minute, take out of the oven and spread the softened chocolate over the entire top. Then sprinkle the nuts over the top, pressing into the chocolate.
Cool on a wire rack for about 30 minutes. Then chill for about one hour until set.
Run a sharp knife around the sides of the tin to loosen, then unclip the tin, and remove carefully. Cut into thin wedges.

Double-fudge blondies, also known as blonde brownies, have a white chocolate cream cheese filling
Ingredients
250g butter, softened
375g caster sugar
1 teaspoon vanilla essence
4 eggs, lightly beaten
220g flour
½ teaspoon baking powder
185g white chocolate, melted, - see melting tips
23cm square cake tin, buttered and base-lined. Preheat oven to 180C, 350F, gas 4.
Cream cheese filling:
250g cream cheese, softened
60g white chocolate melted
60ml maple syrup
1 egg
1 tablespoon flour
To make the filling, place the cream cheese, chocolate, maple syrup, egg and flour in a bowl and beat until smooth. Set aside.
Put butter, sugar, and vanilla essence in a bowl and beat until light and fluffy; gradually beat in the eggs.
Sift flour and baking powder into the mixture and add chocolate and mix well. Spread half the mixture over the base of the cake tin. Top with the cream cheese filling, and then add the remainder of the mixture over the top of that.
Bake for 40 minutes until firm, cool in the tin, and then cut into squares. Makes 24.
To smarten these luscious brownie blondies, drizzle melted chocolate, milk or white, over the top and sprinkle some toasted almonds. Good enough for a very special treat!
Wanting a low fat recipe? Go to low fat brownie recipe page.

Needing to convert any weights and measures for making the recipes on this site?
To leave this chocolate recipe page and return to best chocolate recipes online home page.
Share this page:  What's This?           Enjoy this page? Please pay it forward. Here's how... Would you prefer to share this page with others by linking to it? Click on the HTML link code below. Copy and paste it, adding a note of your own, into your blog, a Web page, forums, a blog comment, your Facebook account, or anywhere that someone would find this page valuable. <a href="https://www.best-chocolate-recipes-online.com/brownie.html">Brownie recipes, chocolate brownie recipe, easy blondie and chocolate fudge</a>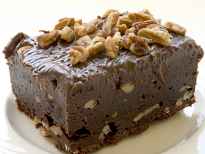 Yes, you can turn your interests into a really successful internet business?
Click here and find out how!
©best chocolate recipes online.com
Copyright Material 2006-14 All rights reserved