If you dream in chocolate, a chocolate fountain party means your dream has come true!
For weddings, birthdays and celebrations, the chocoholic dreams of a chocolate fountain. Dipping luscious fresh fruits and all manner of goodies in the melted chocolate; melted chocolate that cascades and flows creating a wonderful centrepiece for your special party or wedding reception.
A fountain is a fun focus for your guests. They eat all their favourite foods, covered in chocolate! And you create a wonderful fun atmosphere.

Now who would not love that?
It's a great children's party food idea, a chocoholics' wedding vision, a fun way for the family to get together for an anniversary. Chocolate fondue fountains are great for all kinds of events; corporate events too benefit from a food everyone loves, with a casual and entertaining focus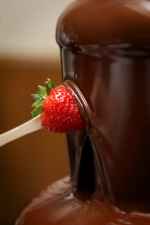 And most of all, fountains let you celebrate your love of chocolate with the ultimate chocolate celebration centrepiece. With melted chocolate cascading down the tiers, it's the most delicious moving sculpture imaginable. Strawberries, marshmallows, cookies, cakes, - these are just some ideas for you to dip into the chocolate.
It's one of those ideas that when you see it, or do it, you wonder why it hasn't been around for years.

So, if you are thinking of a chocolate fountain for your wedding, or for any other big event, it is best to hire a chocolate fondue fountain. There are more and more companies doing chocolate fountain rentals. Here is a guide for what to expect:
· Chocolate fondue fountain companies will supply the right size fountain for your event.
· They will have up to two experienced staff to manage the fountain.
· Staff will prepare all the dipping foods and treats.
· They have lots of food ideas for dipping.
· They will ensure your guests have the best possible experience of your chocolate fountain party or reception.
· Very importantly, they will disassemble the fountain and clean it!
For a family get-together or a children's party, it could be fun to have your own chocolate fountain. There are more and more small family-sized fountains to choose from, at more and more reasonable prices. I certainly think that having one of your own is an excellent resource for the family, and kids love having their friends round and sharing their fun fountain, birthday or not!
Here are some points to consider, if you are thinking of using your own family fountain.
Important: Follow the manufacturer's guidelines.
Here are some general tips: The chocolate used is up to you; although Belgian couverture is the most often used chocolate fountain recipe, any kind of chocolate that you like is fine. Melt the chocolate in a heated bowl; wait until the chocolate is thoroughly melted before turning your fountain on.
When switched on, the auger - a long corkscrew through the centre - lifts the chocolate to the top, or crown. When the crown is full, the melted chocolate cascades down the sides.
Getting a good even flow depends on getting the amount of chocolate right, so refill as the chocolate gets eaten. The smallest fountains will be full with around 1.5kg of chocolate.
You may find that the chocolate is a bit thick, and for a quick fix, to achieve an even flow, you can add vegetable oil, a little at a time; don't spoil the chocolate taste though. The preferred fat to add to improve the chocolate flow is cocoa butter.
Many chocolate suppliers will sell the couverture chocolate that is best to use, and supply extra cocoa butter. I would get that, as it will give a better finish, viscosity, and taste.
As for things to dip into your chocolate, your imagination is your only limitation really.
Popular foods to dip include strawberries, pineapple, grapes, kiwi, and oranges. Then there are nuts, cakes, biscuits, marshmallows and, I'm drooling just thinking about it! Just see what you can come up with.
Cleaning is the last issue, but an important one. Never put the heating bowl in water, ever! The rest can be put in warm soapy water or in your dishwasher. Clean the fountain immediately; it is not easy to clean, so scoop out any remaining chocolate as soon as possible. The sooner you do clean it - the better.
To return from chocolate fountain page to best chocolate recipes online home page.