A favourite chocolate fondue recipe, enjoy with friends and family.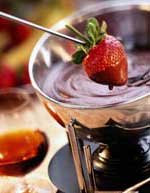 This chocolate fondue recipe is the ultimate fast, fun, and seductive way to eat chocolate with friends and family, and yet be virtuous.
Well, it seems so virtuous - cutting up strawberries, bananas and pineapples, - fresh fruit for your fondue.
So simple to create your own chocolate covered strawberry, with white, dark or milk chocolate. Why not dip with all of them? For information on choosing your favourite chocolate go to the gourmet chocolate tasting page.
You do not have to have a fondue set, but there are some lovely ones around, and it is nice to create the best effect for your chocolate fondue supper party, with the least effort. That way you get to enjoy the fun and relaxing social occasion you were hoping to create, without stress.
Or for the ultimate party fondue, try a chocolate fountain go to the chocolate fountain page to find more exciting recipes.
But for now here is a great basic chocolate fondue recipe to make.
Chocolate fondue recipe
Check the cooking tips for melting chocolate. Remember not to over-stir the chocolate as it melts for your chocolate fondue, particularly for white chocolate.
Ingredients
100g of plain chocolate chopped up
100g white chocolate chopped up
100g milk chocolate chopped up
9 tablespoons of double cream
1 tablespoon of Barcardi rum or Grand Marnier (optional)
To serve, use any or all of the following fruits, - they are all great for a chocolate fondue.
Adjust amounts depending on the number you are catering for; this is enough for between four and six adults.
1 small pineapple, 2 medium bananas, 125g of strawberries, 125g cherries, 2 medium pears.
Use a fondue set, small saucepans or heatproof bowls.
Put each type of chocolate into small, heatproof bowls. If you are using the double pan method to melt the chocolate, place the bowl over the steaming saucepan of water. Do not let the bowl touch the water. See the precise instructions for this, or the microwave method of melting chocolate.
Put the cream into a separate pan and bring to the boil. Add 3 tablespoons of the hot cream into each of the melted chocolate bowls, and mix in gently. Add the chosen rum or Grand Mariner into the white chocolate one, and mix.
Place the three separate warmed bowls over the lowest possible heat on a warming tray. Prepare the fruit at the table and immediately dip into the different fondue mixtures, and eat and enjoy, before anyone else does!
White chocolate fondue recipe- with a splash!

Ingredients
100g of white chocolate
50ml of double cream
Finely grated zest of an orange
1 tablespoon of Cointreau
225g pack of washed halved strawberries
2 clementines peeled and segmented
Break the white chocolate into small pieces and place in heatproof bowl. Do not let the bottom of the bowl touch the near boiling water in the saucepan, as you melt the chocolate.
When the chocolate has melted, remove from the heat. Stir in the cream, orange zest and Cointreau. Pour into the fondue pot or a warm bowl on top of a warming plate and serve.
Other popular foods to dip into any of the fondue recipes here are, dates and marshmallows.
Return from chocolate fondue recipe page to best chocolate recipes online home page.
Your first paragraph ...