Which kid-friendly, fun chocolate recipe will you make?

Quick and easy desserts for a kids' party or just for fun!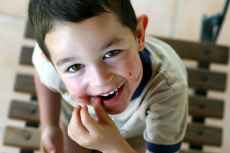 An easy chocolate recipe is the best fun food and dessert for any kid to make and eat.
Kids just love making fun food in the kitchen - with chocolate! Many recipes are also ideal for kid birthday party food ideas. Try some ideas for tea party cakes.
And don't forget that chocolate makes the perfect children's birthday cake recipe, and just needs a gooey, luscious filling or frosting to make it the best birthday cake ever - every year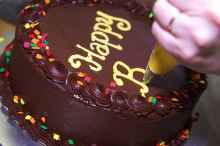 While at Easter children can use chocolate to make craft and gift ideas that are good enough to give and lovely to eat!
Here you will find a variety of no-bake, kid-friendly fun recipes that are quick and easy to make and as you would expect, fun, quick and easy to eat! I have included chocolate krispies, no-bake biscuit cake, chocolate chip cakes and chocolate surprise cones.
It's fun to encourage your children's interest in cooking, and nothing does that as well as chocolate. It could also spark your children to find out more about chocolate itself.
Link to this site for some fascinating chocolate facts specifically written for children, - this offers resources that would make a great project for school.
My daughter had a great time on a school visit to the Living Rain Forest, (a great day out if you live in the south of England) and saw the Theobroma cacao trees growing with their cacao pods.
Click here to link to their homepage.

Or link to the history of chocolate and other information pages on this site.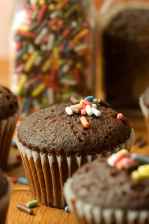 But let's start with an children's all-time favourite chocolate recipe - decorated chocolate fairy cakes and cupcakes - an essential children's party food, whatever the theme. See other fairy cake and cup cake recipes also available on this site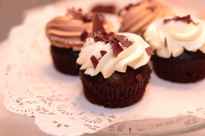 The cup cake recipe here is a simple one and a great way to introduce your child to great home baking this is chocolate cup cake recipe for kids to make for themselves and for their friends.
Children's chocolate cup cakes recipe
Ingredients
115g butter at room temperature
115g caster sugar
2 eggs at room temperature, lightly beaten
115g plain flour,
½ tsp. cream of tartar,
¼ tsp. bicarbonate of soda
and 30g of cocoa powder, all sifted together.
Icing ingredients
55g of unsalted butter
3tbsp single cream
200g icing sugar
30g of cocoa powder
Pre-heat oven to 190C, 375F, gas 5
Cream together the butter and the sugar until pale and fluffy. Gradually add the beaten eggs, a little at a time and beating well between each addition.
Sift again as you add the dry ingredients and fold into the egg and butter mixture.
Fill a muffin or bun tin with paper cases and divide the mixture between them. This much mixture should make around 10-12 cupcakes.
Bake for 12-15 minutes, and then check they are cooked by pushing a skewer into the middle of the cup cake; if it comes out clean then the cake is cooked. Take out and cool on a wire rack.
To make the icing, melt the butter and cream together in a saucepan. Sift in the icing sugar and cocoa powder and beat until smooth and well mixed.
Spread onto the tops of the cupcakes and have fun decorating - perhaps with Smarties.
Whilst not as good as getting an actual golden ticket - like Charlie did in "Charlie and the Chocolate Factory", why not visit Cadbury World?
You will need to pre-book your trip to the chocolate factory visitor centre. To plan your visit and for further information check out Cadbury World (UK).

Cadbury Australia website, click here for those of you who can't wait to visit and are looking for more Kids-chocolate-cooking ideas.
Here are some more fun and easy kid chocolate recipes that don't even need any baking; the only cooking is in a saucepan.
                     No bake easy chocolate biscuit cake
This chocolate recipe is the ultimate child recipe as the ingredients can be taken from whatever is in the cupboard. It's an excellent recipe for children to be creative with and also have some of their favourite ingredients covered in chocolate. Always popular and goes down a treat!
Ingredients
115g unsalted butter
30g caster sugar
2 tbsp. milk
170g of dark/bitter chocolate
30g of cocoa powder
225g crumbled biscuits - really, whatever you have, and the children like, try. Digestives are often used.
55g of breadcrumbs
55g of dried fruits and/or nuts, if liked, and you have some in the cupboard, but more ingredients are optional for this kind of chocolate recipe. Many folks chop up marshmallows instead!
Line a 20 cm square or oblong tin with parchment or greaseproof paper.
Melt the butter, the sugar and milk in a large saucepan, over a gentle heat; add the chocolate and the cocoa powder, plus half the biscuits. I have also added Mars bars to the mix; this adds a chewy chocolaty finish to the final chocolate recipe.
Stir thoroughly. Mix in the rest of the biscuits, breadcrumbs, and any other of your favourite ingredients that you are adding.
Turn out into the prepared tin and spread evenly into corners and along the sides.
Place in the fridge for about an hour to cool and set, ready for cutting into squares when required.
The no bake chocolate cookie recipe is an excellent easy birthday idea. You could use this recipe for a kid's birthday party food; you can really go to town by covering the biscuit mix base with melted chocolate.
To do this, just melt 115g of chocolate together with 30g of unsalted butter in a saucepan, and then pour over the biscuit mix before chilling in the fridge to set.
There are lots more chocolaty kid friendly recipes for you to make on this site. Try chocolate brownies, or chocolate chip muffins, and though it takes time to prepare, homemade chocolate ice creams are always a hit! And don't forget chewy choc chip cookies too.
The following is a child friendly recipe - popular and easy to make. Ideal for making when friends come to play; a children's tea party recipe and always popular as a birthday party food idea.
                                Chocolate Krispies
A wonderfully simple kids chocolate recipe concoction
Ingredients
100g of dark chocolate, broken into pieces.
55g unsalted butter
1 tbsp plus 1 tsp of golden syrup
1 tbsp of cocoa powder
125g cornflakes, or rice-krispies, or branflakes, or toasted dessicated coconut
Melt the chocolate and butter together. Add the syrup and cocoa powder and stir until smooth.
Add the corn flakes, or rice krispies and fold into the chocolate mixture until the flakes or krispies are completely covered.
Spoon into paper cases and refrigerate for about two hours or until well set.
Here is a fun easy chocolate recipe similar to the chocolate recipe for Krispies. In this kids' recipe they get to roll marshmallows in chocolate and cover with a frosting of their choice.
Have around 15 marshmallows, and 285g of plain or milk chocolate and covering of choice, see chocolate recipe above for Krispies.
Melt the chocolate, see melting methods for cooking tips, and then drop a few marshmallows into the melted chocolate. Using a fork make sure that each marshmallow is thoroughly covered, then lift out allowing the chocolate to drip off . Immediately roll the chocolate covered marshmallow in the covering of choice. Also try crushed biscuits or chopped nuts.
This next chocolate recipe is also a recipe kids really enjoy making.
Children enjoy mixing things together, it's the fun of making a magic potion, and as long as someone beats this mixture for the required 2-3 minutes then the resulting mini-cakes should just disappear!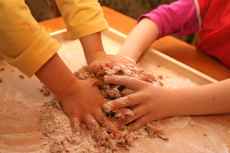 Chocolate chip cakes
Ingredients
Preheat the oven to 190C, 375F, Gas 5.
60g plain chocolate
60g unsalted butter
60g caster sugar
85g self-raising flour
pinch of salt
1 large egg
Grate the chocolate. Place all the ingredients into a bowl, and beat well with a wooden spoon for 2-3 minutes, until fully blended.
Spoon the mixture into 12 paper cases and bake in the oven for approximately 20 minutes. Remove from the oven and allow to cool for a few minutes, then see how long it takes for them to disappear as if by magic!
Here is another magic recipe that kids love to create, - a chocolate recipe that is a fun kid-friendly dessert. This is also a great kids' party idea and once made is an unusual kids' dessert at the end of the party. It is a lot less messy than ice cream, particularly if you are catering away from home at a village hall which does not have a freezer.
This happened at my child's party - it was not much fun tracking down a local shopkeeper who was kind enough to keep the ice cream frozen until we needed it, but that is what we did. Now I do interesting things like the chocolate surprise cones, - more unusual and much easier.
                            Chocolate surprise cones
This is a chocolate recipe enough for around ten round ice cream cones, so use that as a guide if you are catering for more.
Ingredients for the filling
60g unsalted toasted chopped nuts
either mini marshmallows or 10-15 large marshmallows chopped up
200g milk chocolate
4 tablespoons of milk or evaporated milk, warmed.
Decorations
Vermicelli, hundreds and thousands, chopped nuts, or some other decorative item, like sugar flowers or silver balls. There may well be a decoration that would fit in with any theme you have in mind.
Stand the cones in a wire tray or holder.
Sprinkle nuts in to a bowl and chop up the marshmallows or add the mini marshmallows. Melt the chocolate, see melting tips, then beat in the milk or evaporated milk a little at a time. While still soft, but cooled, add to the marshmallow/nut mixture and stir well to mix.
When cool and still sticky fill the cones with the mixture.
Dip the sticky end of the filled cone into your choice of decorative mixture.
For more party cakes ideas, try some recipes for tea party cakes.
Follow this link to find more kid desserts. Magic hot mud pud, chocolate swiss roll and the nursery favourite chocolate blancmange.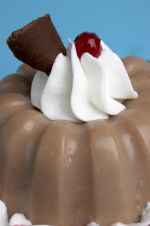 ---
Return from kids easy chocolate recipe page to best chocolate recipes online home page.