Great fun kid dessert recipes to make and enjoy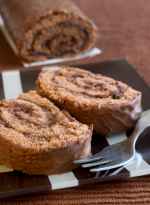 Although anything made with chocolate is a favourite kid dessert, here are some chocolate pudding recipes and kid dessert recipes that children will have fun with and will love to eat.
Getting kids to eat chocolate is not difficult!
But most children, most of the time, seem to prefer plain and simple food, which I have always thought does make good sense. They are still working out flavours, and to over-complicate their palette is something they want to avoid. Complicated flavours are for those of us whose taste buds are a bit jaded!
Having said that kids love simple food, I think it is vital to use good quality ingredients, and chocolate recipes are no exception! It is really worth developing your child's (and your own) taste to include good quality products - it's something that will stand them in good stead for life.
So, the following kid dessert recipes are aimed at being fun and easy recipe desserts for children to really enjoy, and for you to feel good about.
One of the simplest ways to engage your kids with what they eat is to give the food a great name, and this one will appeal to any Harry Potter fans, and more:
Magic Chocolate Mud Pudding
Just imagine eating magic mud! This kid dessert sounds too good to be true for children!
Preheat the oven to 180C, 350F, gas 4.
Prepare a 1.5 litre (minimum) dish, and grease well using the extra butter. Place on a baking tray and set aside.
Ingredients
50g butter, plus extra for greasing pudding dish
90g self raising flour
2ml/1/2 tsp. of cinnamon (optional)
75ml/5 tbsp. of cocoa powder
200g of light muscovado or demerara sugar
475ml of milk
Sift the flour and cinnamon (if using) into a bowl. Sift into that just 15ml of the cocoa powder and mix well.
In a saucepan, add the butter, 115g of the sugar and 150ml of the milk. Heat gently to dissolve the sugar and melt the butter without letting the mixture come to the boil. Remove from the heat.
Stir in to the flour mixture, and mix evenly. Pour that mixture into the prepared dish, levelling the top.
Mix the remaining sugar and cocoa powder in a bowl and then sprinkle over the pudding mixture in the dish.
Pour the remaining milk evenly over the top of the pudding.
Place in the oven and bake for 45-50 minutes, or until the sponge has risen to the top, and is firm to the touch.
Serve hot. For the best kid dessert serve with ice cream, or try crème fraiche. Serves 4.
The disappearing milk that changes into a bubbling self made sauce and is a recipe that is a great fun easy kid dessert for your children to help you to make, and it's a good recipe for you to help them to eat! Hot chocolate puddings are warming kid desserts, especially on a chilly day.
Many kid desserts are built around milk, and this recipe too brings chocolate and milk together for children to both enjoy and get some useful nutrition for growing bones and teeth: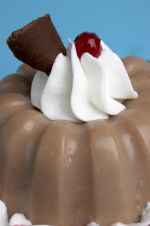 Chocolate Blancmange
Ultimate nursery food, this kid dessert is made all the prettier if you have an attractively shaped bowl or mould in which to set the chocolate blancmange.
Ingredients
60ml corn flour
600ml milk
45ml sugar
50-115g plain chocolate, chopped
a few drops of vanilla essence
Chocolate curls to decorate
Prepare the mould you are going to use by rinsing it with cold water and leaving upside down to drain.
In a medium-sized heatproof bowl add a little of the milk and all the corn flour and blend until you have a smooth paste.
In a medium non-stick saucepan bring the rest of the milk to the boil, and when hot pour over the paste, stirring constantly.
Pour the well-mixed milk mixture back into the saucepan, and on a low heat stir constantly to heat and thicken the milk, until it boils.
Remove the pan from the heat, add the sugar, chocolate and vanilla essence, and stir until the sauce is lovely and smooth, with all the sugar dissolved and the chocolate melted.
Pour the chocolate mixture into your prepared mould. Cover closely with dampened greaseproof paper (to prevent a skin forming). Leave in a cool place to set for several hours.
To remove the blancmange from the mould, place a serving plate on top, turn the mould over, give it a sharp shake and, fingers crossed, out comes your chocolate blancmange!
Scatter your chocolate curls over the top and serve. Serves 4.
Another children's favourite here, although lots of the chocolate recipes on this site are already great puddings and desserts or tea-time treats for children, like brownies, cupcakes, and muffins to name a few, for an after dinner kids' dessert treat.
Another chocolate dessert recipe like that is the chocolate Swiss roll. It's like making a cake into a favourite pudding or tea-time dessert. I think children love it so because it brings the topping into the middle, and because icings are often really loved by children. I think that is what gives the chocolate Swiss roll the edge - it's a bit of cake with a whole lot more potential for a rich chocolaty filling. A kid dessert recipe everyone will enjoy!
As you can make your children's favourite icing to use in this recipe, or add jam of your choice, plus the whipped cream as suggested here, you can adapt it to create the best chocolate roll that suits your children.
Chocolate Swiss Roll
Preheat the oven to 180C, 350F, gas 4. Line a 38 x 33cm Swiss roll tin with greaseproof paper and grease the paper.
Ingredients
8oz plain chocolate
3 tbsp of water
7 eggs, separated
6oz caster sugar
1/8 tsp of salt
12fl oz of whipping cream
icing sugar for dusting
Melt the chocolate and set aside.
With an electric mixer, beat the egg yolks and sugar until thick.
In another bowl beat the egg whites and salt until they hold stiff peaks. Firstly dollop a large spoonful of egg white into the egg yolk mixture, then carefully fold in the rest of the egg whites.
Pour the finished smooth mixture into the prepared tin, and smooth round the tin evenly.
Bake for 15 minutes. Remove from the oven. Let it stand for 1-2 hours.
Whip up the cream with an electric mixer until stiff.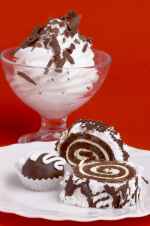 Run a knife around the outside of the baked sponge to loosen it. Invert the sponge over a sheet of greaseproof paper dusted with icing sugar. The sponge should come out of the tin. Peel off the greaseproof paper.
Spread the whipped cream evenly over the surface of the sponge. Then using the greaseproof paper, gently roll up the sponge until you reach the end.
Refrigerate for several hours, and then dust with icing sugar before serving. Provides 10 servings.
For tea party cake recipes, try tea party cakes.
Go to kid friendly chocolate recipe page for lots more fun and easy chocolate recipes for kids.
Return from kid dessert page to best chocolate recipes online home page.