Tea party cakes - a tea time treat.
Tea party cakes, cakes for high tea, cucumber sandwiches, cream teas...
All sounds like a bygone era. Time for a sit down in the late afternoon. Tea, best china, chat with friends, and a light bite to eat, before dressing for dinner - where the serious social business happens - some 3 to 4 hours away!
It is a bit of a bygone era, sadly. The English tea party tradition was started by Anna Russell, Duchess of Bedford, in the first half of the nineteenth century. She ordered plain bread and butter with tea in the mid afternoon.
The classic high tea then developed into a relaxed social occasion, where the menu included a variety of sandwiches, cut paper thin, including cucumber sandwiches, watercress, ham and mustard, cream cheese and salmon sandwiches, with the crusts cut off - of course. The sandwiches were daintily arranged on the bottom layer of a three tier cake stand.
The tradition for cakes at tea-time was to offer sliced cakes, and some little, not-much-more-than-bite-sized cakes and tarts. These cakes were arranged in the middle tier, and sometimes as a special treat small cream cakes or chocolate cakes were placed on the top layer of the cake stand.
Today tea party cakes are enjoyed more by children, tea party cakes being the most popular treats for children's tea parties - birthday celebrations or not.
The recipes here both acknowledge the past and the tradition of tea party cakes, while offering modern tea party recipes that kids love too.
Well, children and adults really, as these tea party cakes are, of course, created with chocolate!
The classic tea party cake of tradition included the Victoria sandwich, plain sponge cake.
A Chocolate Victoria sponge is another cake to make for a tea time treat. Follow one of the recipes for a chocolate sponge cake to make various tea party cakes.  Spread with strawberry or raspberry jam, for example, and fill with whipped cream. Dust liberally with icing sugar on top, and decorate with strawberries as desired. That is a traditional tea party cake, but now with the chocolate make-over.
Another tea-time cake tradition was to have sliced cake a very popular one was the pink and yellow chequer board Battenburg Cake - very traditional tea party food. Now there is the chocolate version, of course! Also a bit fiddly, but worth the effort for the ahhs! - let alone the taste.
Chocolate battenburg cake
Ingredients
175g softened butter
175g caster sugar
A few drops of vanilla essence
3 eggs, beaten
175g self raising flour
15g cocoa powder, sifted
Apricot jam or orange cheese (orange curd)
350g marzipan or almond paste
1-2 tablespoons milk
Grease and line a Swiss roll tin measuring 30.5 x 20.5 x 2cms and divide it lengthways with a wall of greaseproof paper. Preheat the oven to 190°C, 375°F, gas 5.
Cream the butter and the sugar until pale and fluffy. Add the vanilla essence, then add the eggs a little at a time, beating well after each addition.
When all the eggs are added, lightly fold in the flour.
Turn half the mixture into one half of the prepared tin. Mix the cocoa into a tablespoon of milk, then add to the other half of the cake batter; mix in well then pour into the other side of the prepared Swiss roll tin.
Bake in the oven for 40-45 minutes or until well risen and firm to the touch. Turn out onto a wire rack and leave to cool.
When the cake is cold, cut each half of the cake in length-ways strips. Spread all the sides of the cake strips with the apricot jam or orange cheese.
Place a cocoa cake strip on top of a plain strip, and a plain cake strip on top of the cocoa cake strip, so the arrangement is alternating.
Place the pieces together to make a square shape - you will see a checker board design. Press together.
Roll out the marzipan. Use icing sugar to stop the rolling pin or the surface sticking to the marzipan. Roll out to the size of 35.5 x 25.5cm. Wrap around the cake. Press firmly against the sides and trim the edges.
Score a criss-cross pattern with a knife over the marzipan covering.
A popular tea party cake was the jam tart. Follow this recipe to create a chocolate version - in fact, a chocolate and butterscotch version, with a rich chocolaty filling instead of the customary variety of strawberry or apricot jam.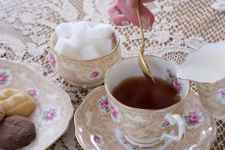 ---
Chocolate butterscotch tartlets
12 frozen tartlet cases
55g packed brown sugar
20g butter
60ml cream
150g dark eating chocolate, chopped coarsely
2 tablespoons coarsely chopped toasted hazelnuts
1 tablespoon cocoa powder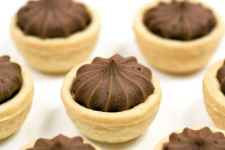 Bake the tartlet cases according to the manufacturer's instructions.
Meanwhile, heat the combined sugar, butter and cream in a small saucepan, stirring until the sugar dissolves.
Reduce heat and simmer, uncovered, without stirring for 2 minutes.
Cool for 5 minutes. Stir in the chocolate and extra cream; refrigerate for 10 minutes.
Divide the cooled mixture between the tartlet cases, and sprinkle with the nuts and sifted cocoa.
Serve on a pretty plate with a crisp white doily, and starched napkins on your lap to catch the crumbs. Or put them on a children's tea party plate and watch them disappear!
Finally, a more grown up cake to have at tea time:

Chocolate fruit and nut cake
Ingredients
150g large seedless raisins
75g glace cherries
2 tablespoons rum, orange juice or cold tea
225g unsalted butter at room temperature
225g caster sugar
4 large eggs at room temperature, beaten
225g plain flour
1 tablespoon baking powder
A pinch of salt
85g ground almonds
100g plain chocolate, coarsely chopped
100g walnut pieces
Prepare a 22cm spring-form cake tin, or deep cake tin, buttered and base-lined.
Preheat the oven to 180°C, 350°F, gas 4.
Place the raisins, cherries and rum into a small bowl. Stir to coat the fruit in rum, then cover with cling-film and allow to soak for at least 2 hours, preferably overnight.
Put the butter into a mixing bowl, and using a wooden spoon or electric mixer, beat until creamy. Add the sugar and beat until light and fluffy.
Gradually beat in the eggs. Sift the flour, baking powder, salt and ground almonds onto the creamed mixture, and using a large metal spoon, fold in the dry ingredients. Add the fruit soaked in rum and pour in any liquid not absorbed.
Add the chopped chocolate and walnuts and gently stir in until thoroughly blended. Spoon the mixture into the prepared tin and level the surface.
Bake in the preheated oven for 1-1½ hours until the top is golden brown, firm to the touch, and when you insert a skewer into the centre it comes out clean.
Let the fruit and nut cake cool in the tin, then invert onto a wire rack, remove the lining paper and cool completely. Wrap in greaseproof paper and keep overnight before cutting.
Store in an airtight container.
Best eaten within one week. If not eating your tea party cake straight away, can be frozen for up to one month.
Invite a friend over. Lovely cup of tea, in your best china…..One lump or two? ...Cucumber sandwich? Cake? Some traditions are worth reviving.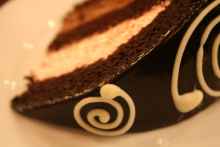 ---
Leave tea party cakes and return to best chocolate recipes online home page.