Best chocolate chip cookie recipe, choc biscuit and easy homemade cookie ideas.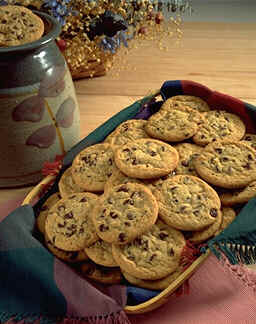 Follow the basic, easy, homemade chocolate chip cookie recipe here, and you can then go on to create your own unique chocolate biscuit combinations using your very favourite ingredients!
It's lovely to see the smiles when homemade chocolate chip cookies are on the plate. Not only do kids love them, but those homemade cookies taste so much better than bought ones that grown-ups love them too!
The reason I love home-baking is that you know what is in the cake or cookie. You know it is made from just wholesome ingredients, give or take an ounce of sugar!
If you are going to have a treat, then let's make them tasty, fresh, and not containing colouring, flavouring or preservatives. I won't even go on about the difference in price. Just to say that, if you follow these recipes you will make from 14 to 24 cookies, which is going to be much more cost effective.
The chocolate cookie recipe is so easy and fun to make; it really is!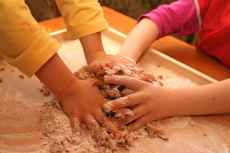 Baking with kids is such a great thing to do on a rainy afternoon. Baking with children is like you are weaving magic in the kitchen. The sights and smells last a lifetime!
And once you know the basic chocolate chip cookie recipe, I think you will be surprised at how the simple chocolate cookie recipe can be developed into something classy, luxurious and decadent! Just use your imagination and weave your own creative magic.
So here it is:
Basic chocolate chip cookie recipe
Remember, preheat your oven to 350F/180C/Gas 4 and grease 2 large baking sheets.Always do this preparation before starting the recipe.
Ingredients
115g/4oz butter at room temperature
50g caster sugar
110g dark brown sugar
1 egg
½ teaspoon vanilla essence
170g plain flour
½ teaspoon of bicarbonate of soda
Pinch of salt
8oz chocolate chips
With an electric mixer, cream the butter and both sugars together until light and fluffy.
In another bowl, mix the egg and vanilla, and then gradually beat into the butter mixture. Sift over the flour, bicarbonate of soda, and salt. Finally add in the chocolate chips and mix well to combine.
Place heaped teaspoonful's of dough at least 5cms apart, as the mixture will spread out.
Bake until lightly coloured, which takes around 10-15 mins.
Transfer to a rack and cool.
Best eaten within 1 week, they can be frozen for up to 1 month.
That's all very well - the basic chocolate chip cookie recipe delivers that yummy smiles-all-round result; but don't stop there - try the following souped-up cookie recipes. The chocolate chip cookie recipe can be a lot more; a lot more, well, grown-up really, and without losing the chocolate chip cookie fans that you already have.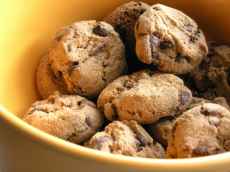 I love this next recipe because - I love chocolate really. It's a way of using the choc chip part of the basic chocolate chip recipe ingredients to use great quality chocolate, which I love to do.
Chocolate hunk cookie recipe
Same preparation as before: preheat the oven and prepare a few baking trays. You may need a good number of trays to leave space for the dough to spread out.
Ingredients
115 unsalted butter at room temperature
85g light brown muscovado sugar
1 large egg, beaten
60g self-raising flour
½ teaspoon baking powder
Pinch of salt
½ teaspoon of vanilla essence
115g porridge oats
175g plain chocolate chopped into chunks
Put butter into a large mixing bowl, and beat until creamy with wooden spoon or electric mixer. Add sugar and beat again until creamy. Beat in the egg a bit at a time, and beat really well after it's all in.
Sift in the flour, salt and baking powder, add the oats and vanilla essence, and stir thoroughly. When well mixed stir in the chocolate chunks.
Measure out heaped teaspoonful of the mixture onto baking trays, well spaced to allow for spreading. Bake in the preheated oven for 12-15mins, until golden and just firm. Let them cool for a couple of mins on baking tray as they may be a bit soft and break. Then transfer to a wire rack to cool.
Here is another variation:
                  Double chunk (with nuts) cookie recipe
Nuts are good for us. They also taste delicious with chocolate. I find it hard to get my daughter to eat nuts, but by following the basic chocolate chip recipe and adding nutty ingredients, I find is a way of getting her to eat small amounts of useful but otherwise avoided foods.
Follow the basic ingredients and method as described above, just add your choice of nuts - walnuts, hazelnuts, macadamia nuts, and pecans as roughly chopped as you like. I like them left nearly whole. Another more grown up version is to add crystallised ginger with the roughly chopped chocolate. Other popular ingredients for cookies are sultanas and raisins, so try them too.
Finally, here is an all American Chocolate chip cookie recipe:
                 Double chocolate chunk cookie recipe
This recipe makes about 14 cookies.
Ingredients
50g of butter at room temperature
50g granulated sugar
40g light brown soft sugar
½ teaspoon of vanilla essence
1 egg
125g plain flour
175g of plain chocolate drops or roughly chopped plain chocolate
175g of white chocolate roughly chopped into chunks
25g of pistachio nuts.
Cream the butter then add all the remaining ingredients, except the pistachios, and mix thoroughly.
Put around 14 large spoonful's well spaced apart, on two well greased tins. Press a few of the nuts on top of the dough. Place in the preheated oven of 180C gas 4 for 10-12 mins. The cookies are just lightly tinged brown; do not over bake, as these cookies are to be soft in the middle.
Leave to cool on a rack. Enjoy!

Other chocolate cookie recipes, chocolate dipped crescents and chocolate smothered Florentines.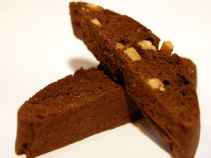 For a chocolate biscotti recipe go to chocolate biscotti recipe page.
Looking for kid friendly chocolate recipes including no bake chocolate krispies?
For more chocolate recipes for cooking with and for children, including chocolate blancmange go to kid dessert recipe page.
Or if you would like chocolate cupcake and fairy cake recipes go to chocolate cake recipe page.

Return from chocolate chip cookie recipes page to best chocolate recipes online home page.