Chocolate biscotti recipe.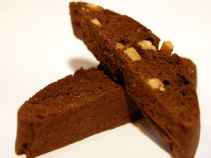 The chocolate biscotti recipe was created in northern Italy. These dry chocolaty biscuits come into their own when used for what they were originally intended: dip the biscuit into a glass of Vin Santo and let the rich sweet wine soak thoroughly through the biscuit.
If you are looking for an alternative, biscotti are also delicious dipped in freshly brewed coffee; an ideal after-dinner treat.
For a popular Italian gateau dessert, check out this rich tiramisu tart recipe.
Chocolate biscotti recipe with almonds and orange
The oven needs to be preheated to 190C, 375F, gas 5 for toasting the almonds briefly and for the first bake of the chocolate biscotti recipe. Then turn the oven down to bake for the second time at 140C, 275F, gas 1.

Ingredients
125g almonds
200g plain flour
1tsp baking powder
pinch of salt
180g caster sugar
zest of ½ orange, very finely chopped
2 eggs
2 egg yolks
90g plain chocolate, chopped into pea-sized pieces
1 egg white, lightly beaten
Toast the almonds lightly on an ungreased baking sheet in the preheated oven for about ten minutes. When they have cooled, chop half of them up coarsely and then set aside.
Put the other half of the remaining toasted almonds in a food processor and finely grind them up.
Sift the flour, baking powder and salt into a mixing bowl. Stir in the sugar, ground nuts and orange zest. Make a well in the centre of the dry ingredients and add the whole eggs and the yolks. Stirring from the centre, slowly and carefully start to incorporate the dry ingredients into the eggs, until the mixture all sticks together.
Add the chocolate pieces and the chopped toasted almonds.
Turn the dough onto a floured surface, and handling the dough as lightly as possible, divide into four equal parts. Form each into a sausage shape approx. 23cm x 4cm (9 x 1½") and brush the surface with egg white.
Place them on a greased baking sheet spaced well apart.
Bake in the preheated oven for 20 minutes. Remove from the oven and reduce the temperature of the oven to 140C, 275F, gas 1.
Cut diagonally across about 1cm thick slices.
Lay the slices on an ungreased baking tray.
Bake, turning once for 25-30 minutes.
Remove from the oven and leave on the baking sheet to cool completely.
Another way to eat your chocolate biscotti is to just dip them into a rich hot chocolate drink, for a lovely night-time treat.
For another chocolate biscotti recipe try this mocha hazelnut biscotti. This chocolate biscotti recipe has a lovely subtle coffee flavour and rich roasted hazelnuts.
Mocha and hazelnut chocolate biscotti recipe
Ingredients
125g hazelnuts
200g plain flour
75g unsweetened cocoa powder
1 and a ½ teaspoons of baking soda
pinch of salt
3 large eggs
200g of granulated sugar
½ teaspoon of vanilla extract (essence)
2 teaspoons of freeze dried coffee granules
60g of semisweet (dark) chocolate chips
250g of white chocolate coarsely chopped
Preheat the oven to 170C, 325F gas 3.
Spread the nuts in a single layer on an oven tray, and bake for about five minutes or until the skins begin to split.
Remove from the oven, and in a clean tea towel rub the hazelnuts to remove the skins, and pick out the nuts.
Increase oven temperature to 180C, 350F, gas 4.
Beat the eggs and sugars in a medium bowl with an electric mixer until smooth and changed in colour, pale and thick. Stir in the sifted flours and cocoa, the combined coffee and liqueur, the chocolate and the nuts; mix until it forms a firm dough.
Gently knead the dough on a floured surface; divide the dough in half.
Shape each half into a 30 cm long sausage/log shape.
Place on a greased oven tray 5 cms apart, slightly flatten and bake in the oven for about 25-30 minutes or until firm to the touch.
Cool on a tray for 15 minutes.
Lower the oven temperature to 170C, 325F gas 3.
With a serrated knife cut diagonally across in 1cm (½") slices.
Place the slices, cut side down, on an ungreased baking tray. Bake in a moderate oven for 15 minutes, until both sides are crisp, golden and toasted.
Allow to cool on racks.
Melt the white chocolate and just drizzle the chocolate over the biscotti.
Cool and serve. Makes 50 biscuits.
If you are making chocolate biscotti for a special event, or dinner party, you can dip them in chocolate. After cooking the chocolate biscotti just melt the chocolate of your choice and then, instead of a drizzle, just dip the cooked biscotti half way up the biscuit. This is lovely with the mocha biscotti, especially when you are letting the rich coffee soak in....enjoy!


Interested in more biscuit and cookie recipes?
For a chocolate Florentine recipe and almond chocolate biscuit recipe, go to chocolate cookie page.
Or for the basic chocolate chip cookie recipe and chocolate chunk hunk recipes, go to chocolate chip cookie recipe page.
Want more Italian dessert recipes? is tiramisu one of your favourites? Go to easy tiramisu recipe page.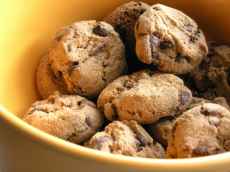 Leave chocolate biscotti recipe page and go to best chocolate recipes online home page.