Chocolate cake recipe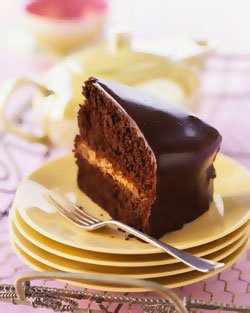 Here, I have three variations of the of classic chocolate cake recipe for you to make  - simple and easy recipes for a delicious chocolate sponge cake - fast.
Also, here for you to try are delicious chocolate-cake-recipes that you can create cupcakes and fairy cakes galore and then there are the yummy icing recipes and....well, let's not talk about it, lets just get on!
First things first though, chocolate sponge.
I start here with the most straight-forward of the sponge cake recipes. It might be interesting if you do try each of the chocolate cake recipes for making sponge and then decide which one of them works best for you; both as a method and for the kind of texture and taste of chocolate sponge cake you love the most.
Because once you have perfected your basic chocolate sponge recipe, you will have something which is ideal for any occasion - birthdays, anniversaries, valentines. You can always dress up a well-made homemade chocolate cake with one of the luscious fillings or icing recipes or for more frosting recipes including a rich glossy satin chocolate glaze and white chocolate frosting recipe, go to the frosting recipe page. Also, experiment with cake decorating ideas and tips.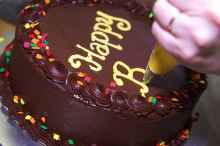 No one will think that your chocolate cake is basic or simple then!
It's good to practise too, before the occasion, as each time you do it your results will get better and better!
The quality and freshness of all your ingredients will improve the standard of your baking, but the most important is the quality of the chocolate or cocoa powder you use. That will have a huge impact on your cake.
I have here examples of a chocolate cake recipe made with only cocoa, another made with only chocolate and finally a recipe that uses a combination of both cocoa powder and melted chocolate.
But I digress again, try the different methods and ingredients to see which chocolate cake recipe will work best for you.

Classic chocolate cake recipe
Uses only cocoa powder. This recipe is also an ideal recipe for fairy cakes and hot puddings.
This chocolate cake recipe is also good for children's teas. Easy for children to make and decorate, for when friends come over to play. Or use a muffin tin, for fairy cakes; lots of room for practice on decorating various cakes rather than the whole single cake ending up a bit messy.
It takes just 15 to 20 mins. to bake, so kids will not need to wait too long, nor you for that matter!
This also introduces you and the kids to the basics of good chocolate cake making, so if you are new to baking, it's a good place to start too. For more kid-friendly chocolate recipes link to best chocolate recipes online kids recipe page. Remember when baking a chocolate cake recipe use unsalted butter at room tempreature and large eggs also at room temperature for best cooking results. Check the cooking instructions, so that you preheat the oven as required before starting any recipe. Also, prepare any cake tins or muffin tins that you may be using, by greasing well with butter, and greaseproof paper on the bottom, so that your cakes always slide sweetly out of the tin, and onto the plate!
Finally, here is the basic chocolate cake recipe! (It's just that cooking with chocolate is an art and a science, then you add a slice of magic!)
For this chocolate cake recipe preheat the oven to 180C/gas 4 (350F).

Ingredients
This recipe is made with cocoa powder.
175g of soft (room temp.) unsalted butter
3 large eggs
150g self-raising flour
175g Castor sugar
30g of cocoa powder
1 teaspn of vanilla essence
2 tablespoons of milk
Put all the butter into a good-sized mixing bowl and, using a wooden spoon or an electric mixer, beat until creamy. Add all the sugar, beating all the time until the mixture is very light and fluffy.
I would recommend that you use an electric mixer if you want a light sponge cake for your chocolate cake recipe - not only do you get better results, but it saves on arm-ache and time. I think it is also easier to know you have achieved the beating result you want. I keep thinking when I do it by hand, "shall I just do a little bit more?" which certainly makes it a longer job! A good electric mixer will make baking chocolate cake recipes more fun, particularly when cooking with kids.
Then break the eggs into another bowl or jug, add the vanilla essence, and beat together with a fork until this mixture is light and frothy. Pour this mixture a bit at a time into the bowl containing the butter and sugar mixture. Take time and care on each occasion that you add the mixture to mix carfully and beat thoroughly.
Sift the flour and cocoa powder together by gently tapping the sieve with the heel of your hand over the butter, sugar and egg mixture. At any point in making this recipe, the more air you can trap in the mixture the better; conversely, the more you knock out by mixing roughly, the poorer the texture of the cake will be.
Add the milk. Then using gentle folding movements with a large spoon, mix the flour and cocoa mixture together into the rest of the mixture, so that they are completely blended; i.e. no streaks, just a nice uniform colour, yet done very gently. Great! We are nearly there.
With the above recipe, you have enough for two sandwich tins of 20 cms diameter. Divide the mixture between the two tins and place in the preheated oven for 15 to 20 mins.
The cake is done when the sponge springs back when gently pressed in the centre; or is starting to brown on top and has shrunk away from the edges of the tin container.
Turn out onto a wire rack and let the cake cool completely before you fill it or do any icing.
I have a variety of fillings and icing recipes that are lovely to try.
Store in an airtight container in a cool place. You can freeze a batch of these cakes before icing, which is useful to have them ready in case folks come round. Remember to defrost thoroughly before icing though.
The above chocolate cake recipe uses cocoa, thereby adding chocolate as a dry product. This creates a chocolate cake with less sugar and fats than one made using a chocolate bar. Which can help if you are on a special diet.
Here is a recipe if you do not have cocoa but you do have a bar of good quality chocolate in the house:

Simple chocolate cake
Uses only plain chocolate. Do use good quality chocolate. You may like to read some cooking tips and check various methods for melting chocolate for your chocolate cake recipe that would work for you.
Ingredients
225g of plain chocolate
225g of unsalted butter
225g caster sugar
170g plain flour
6 large eggs separated.
With this recipe, melt the chocolate in a bowl over water as described in my chocolate cooking tips.
Cream the butter and sugar in a mixing bowl.
Then quickly beat in the melted chocolate until nice and evenly mixed. Beat in a bit of the flour, then add an egg yolk, add more flour, then again egg yolk, until all 6 egg yolks and flour has been added.
Whisk the egg whites until they are frothy and the peak of the mixture stands up well.
Gently fold the egg whites into the mixture, being careful to lightly mix the ingredients together, without losing air from the egg white.
Pour and spread the mixture evenly and gently into a 20.5cm tin (8in), well greased with butter
Bake in a preheated oven at 180C or gas mark 4 for approx. 45 mins. Cut the cake in half or bake in two separate tins instead of one, so that you can add a filling between the layers.
You can also use icing on your cake or cover with some of the cake decoration ideas on this site.
Tea-time chocolate cake recipe
Uses both dry cocoa powder and plain chocolate.
Ingredients
115g/4oz plain chocolate, chopped into pieces
45ml/3tbsp milk
150g/5oz unsalted butter
150g/5oz light muscovado sugar
3 eggs
200g/7oz self-raising flour
15ml (3tsp) cocoa powder
Preheat oven 180c/350F/gas 4.
Grease two 18cms/7inch tins.
Melt chocolate using a bowl over a small pan with just boiling water. You may want to read the cooking tips for chocolate melting instructions. Place the chocolate and milk together in the bowl, move off the heat once gently melted.
Cream butter and sugar until pale and fluffy. Add one egg at a time, beating well after each addition.
Add to the mixture the melted chocolate and milk, and mix until really well combined.
Sift the flour and the cocoa over the mixture, and fold in with a metal spoon until evenly mixed.
Divide the mixture between the prepared cake tins, smoothing gently, and bake for 35 - 40 mins.
Cool the cake on a rack. Prepare the filling and or any icing you want.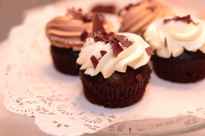 I think fairy cakes and cupcakes are going to be become an even more popular chocolate cake recipe in the future. They are very quick and easy and fun to make.
They also lend themselves to being dressed-up for special occasions, such as weddings and celebrations as well as being an easy children's teatime treat.
So with a luscious topping recipe, you can also do one of my favouite things - its a lovely surprise when you bite in to a fairy cake or cupcake and find a filling that has been hiding in the centre - you get a soft, sweet, gooey, chocolaty mouthful. You could add an exotic liqueur to a filling recipe for that extra kick.
It's so easy to do - just fill an icing bag with the filling of your choice and take the cakes out of their paper cases and push the filling in through the base of the cake.

A simple chocolate cake recipe for cupcakes
Ingredients
175ml of full-cream milk
60g of plain chocolate, finely chopped
125g of caster sugar
60g unsalted butter, at room temperature
½ tsp of vanilla essence
1 large egg, beaten
150g of self-raising flour
2 tablespoons chocolate chips or chopped plain chocolate
fudge topping of your choice(optional)
Preheat oven to 180C, 350F, and gas 4: and a 12-hole muffin tin or deep bun tray, lined with paper cases.
Place the milk into a saucepan and heat until just scalding. Put the chocolate and one third of the sugar into a bowl, pour over the hot milk and stir until smooth. Let this cool for a while.
Put the butter into a bowl; add the remaining sugar and vanilla.And using a wooden spoon beat the mixture until light and fluffy, then gradually beat in the egg.
Stir in the some of the chocolate mixture alternating with the flour. Stir in the chocolate chips or chocolate pieces.
Spoon into the paper cases until approximately two-thirds full
Bake in the oven for 15-18 minutes. They are done when they spring back when pressed in the centre. Makes 12 cupcakes.
Let them cool on a wire rack, before spreading the fudge topping, if using.
Easy chocolate cake recipe for fairy cakes
Ingredients
175g of unsalted butter, at room temperature
175g caster sugar
3 large eggs, at room temperature
1 tspn of vanilla essence
150g of self-raising flour
30g cococa powder
2 tbspn of milk
chocolate topping of your choice.
Preheat oven 180C, 350F, gas 4. Muffin tins lined with paper cases - makes up to 24 fairy cakes.
Put all the ingredients into a bowl and using a wooden spoon and mix until thoroughly blended or if using an electric mixer - use on middle speed.
Spoon about 1 tablespoon into each paper case.
Bake in the oven for 12-15 minutes, until the sponge springs back when pressed.
Chocolate frosting recipe page.
More chocolate cake recipes and chocolate gatueaux recipes for you to enjoy:
Rich chocolate layer cake| Delicious fudge chocolate cake|Tea party cakes.
Flourless Black Forest Gateau recipe.|Chocolate Mousse Cake|Low fat dessert recipes.|Low fat chocolate cake |Low fat chocolate cheescake recipe.
Needing to convert any weights and measures for making the recipes on this site?