Find your favourite chocolate frosting recipe.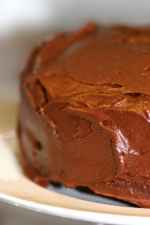 With the right frosting recipe you can create cakes that taste as great as they look.
Frosting your chocolate cakes is a simple, easy, quick and attractive way to finish your cakes. Follow any of the easy homemade chocolate cake decorating recipes here to decorate your cakes and add even more of the luscious chocolate taste we love to your baking.
Here you will find a butter cream frosting, a white chocolate frosting recipe, chocolate glazes, and a chocolate fondant recipe.
For more ideas on how to make chocolate icing and filling recipes including fudge frosting, rich and creamy chocolate icing, light and fluffy butter frosting, sour cream chocolate frosting recipe and the basic chocolate ganache recipe, go to our other icing and filling page.
While for ideas to decorate your chocolate cakes with chocolate decorating hints, have lots of fun with the lovely chocolate tips.
Easy chocolate cake frosting recipe.
Covers and fills a 23cm cake.
Ingredients
200g butter at room temperature
200g icing sugar, sifted
200g plain chocolate

melted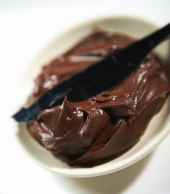 Cream together in a medium bowl the butter and the icing sugar. Add the melted chocolate, whisking all the time as you do.
Use immediately by pouring onto the cake and spreading in the finish you are hoping to achieve, as this recipe sets quickly.
If you are looking for some good chocolate cake recipes and great recipes for cupcakes and fairy cakes, then go to the chocolate cake recipe page.
But for now here are more chocolate cake frosting recipes:
Chocolate buttercream frosting
This is enough to fill a 20-23cm round layer cake.
Ingredients
4 egg yolks
125g granulated sugar
250g unsalted butter chopped
100g plain chocolate, melted
100ml water
Beat the egg yolks in a bowl until they are pale and thick. Gently heat the sugar and water in a heavy-based pan until dissolved.
Bring to the boil until the syrup reaches the soft-ball stage (115C, 240F, - use a sugar thermometer).
Gradually pour the syrup over the egg, whisking all the time with a hand-held electric whisk, avoiding contact with the blades.
Beat the softened butter into the mixture, then pour in the melted chocolate.
Use this butter cream frosting straightaway when fresh.

White chocolate recipe
This is enough to cover a 20cm round cake. This white chocolate recipe is a rich easy frosting recipe. Great with a dark chocolate sponge cake that would otherwise not have a filling or frosting. You can spread it evenly over the top of your cake or lift off the palette knife to create a random textured finish to the frosting on the cake. Or even pipe decorations around the edge, like shell designs or rope.
Ingredients
175g white chocolate, chopped into small pieces
75g unsalted butter
115g icing sugar
90ml double cream
White chocolate frosting is a very useful frosting recipe for decorating too. If you need to decorate your cakes in a special colour, say for a kid's birthday party idea. Just bake your chocolate cupcakes or fairy cakes. Then using food colourings, add the colour of your choice to the cupcake-frosting recipe; green for monsters! Or how about pretty in pink and decorate with icing flowers?
Interested in other kid-friendly chocolate recipes for children's teas, or just having fun in the kitchen baking?
This next recipe is a glamorous shiny chocolate recipe. A high gloss finish on your chocolate cake makes your cakes look very sophisticated. But the frosting recipe is very easy to follow.
Satin chocolate icing recipe
This makes a total of 225g of icing. Have the cake you want to cover in satin chocolate icing ready on a wire rack, so that as soon as the satin frosting is ready you can pour it directly over the cake.
Let the frosting pour over the top and sides, using a palette knife for any gaps, working quickly to cover before the frosting starts to thicken and set.
Do not touch the icing once it has hardened, as the glossy satin finish will be spoilt. This is a lovely glossy finish and needs very little other decoration; perhaps some chocolate-dipped strawberries or cherries.
Ingredients
Put all the ingredients into a heavy based saucepan over a very low heat. Stir the mixture with a wooden spoon until all the ingredients have melted and blended into a smooth mixture.
With the cake placed on a wire rack and a bowl placed underneath to catch the overflow, pour the glaze carefully over the cake, trying to cover any gaps.
Another useful chocolate glaze recipe uses chocolate and golden syrup. Enough for a 20-23cm round cake.
Ingredients
Melt all the ingredients together. Follow the other directions as above. Another tip for a professional chocolate glazed finish is to cover your cakes twice. The first coat will even out the texture and keep any crumbs in place, while providing a smoother base for another layer of the glaze on top. Slightly reheat the glaze as required before pouring over.
Chocolate fondant icing
This recipe is enough to cover and decorate one 23cm round cake.
Ingredients
350g plain chocolate, chopped into small pieces
60ml liquid glucose
2 egg whites
900g icing sugar
Place the chocolate and glucose in a heatproof bowl, and melt them, stirring gently - see melting methods.
When the mixture is smooth and gently melted, allow to cool slightly.
In a clean, grease-free bowl, whisk the egg whites with a hand-held electric mixer, until soft peaks form. Then stir into the chocolate mixture with about 45g of the icing sugar.
Continue to beat the icing, gradually adding enough of the remaining icing sugar to make a stiff paste.
If not using immediately, wrap the fondant in clear film.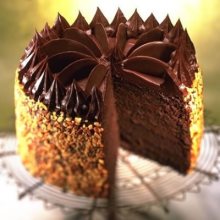 ---
Return from chocolate frosting recipe page to best chocolate recipes online home page.