Chocolate mousse recipe is an easy and simple french recipe that makes a great chocolate dessert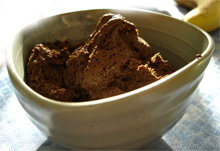 The easy mousse recipes here follow the classic French recipes.
Chocolate mousse is one of my family's favourite chocolate pudding's, my children love it. But if you are concerned about using raw egg, go to the child friendly recipe page for kid-friendly desserts and children's chocolaty puddings
The classic French recipe is based on such simple ingredients and a simple recipe where the quality of the ingredients used is vital to achieve that luscious, light yet rich chocolaty finish. The eggs need to be the freshest, the butter good quality unsalted, and last, but certainly not least,really splash out for your chocolate mousse and use some of the best chocolate you can find.
I would like to say something too about using gelatine in mousse recipes: it is a useful ingredient, but when so many people are vegetarian these days, I prefer not to use it. It is disappointing if friends miss out on your luscious pudding, so I tend to avoid using gelatine in chocolate recipes where ever possible- for that reason. While also, with modern day electric whisks and fridges, we can get our mousse to be light and fluffy and set well without using gelatine to achieve that.
There are not many puddings more popular than mousse. I also could mention what an ideal ending it is to more grown up get together's and for dinner parties, but instead I will get on with the chocolate mousse recipe.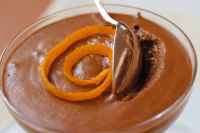 Classic mousse recipe
This recipe serves four:
85g plain great quality chocolate, finely chopped.
2 tablespoons of water, (or try brandy or rum instead!)
10g unsalted butter
3 large eggs, separated.
This recipe may have few ingredients, but it does call for some skill and attention!
Put the chocolate and water, brandy or rum into a bowl, and set over a saucepan until the chocolate is just melted. See cooking tips with melting chocolate and be sure to follow the Bain Marie method described, with care. Use a chocolate thermometer if you have one. Do not let it get too hot and stir gently and as little as possible!
Remove bowl from heat and add in the butter. Leave for 1 minute, then stir in the egg yolks, one at a time.
Put the egg whites into a clean bowl, and using an electric whisk or mixer, whisk until stiff peaks form.
Stir about ¼ of the egg white into the butter and chocolate to loosen the mixture. Then using a large metal spoon fold in the rest of the egg whites in around three further roughly equal additions.
Carefully spoon into the serving bowls you want to use. You could use some nice coffee cups, or pretty glasses.
Chill for two hours. Eat within 12 hours. Do not freeze.
Try this variation on the basic chocolate mousse recipe:
Espresso mousse.
Using the recipe above, replace the water or brandy with fresh, good quality espresso coffee. Then, when whisking the egg whites also add in 3 tablespoons of caster sugar before adding to the chocolate mixture.
Find out more about cookery courses in France and enjoy a French cookery course and holiday which includes a special chocolate section.
Here is another sophisticated dinner party dessert mousse recipe:
A rich mousse with brandy sauce.
Ingredients
180g dark chocolate
20g cocoa
70g unsalted butter
30ml of strong black coffee (espresso)
100ml of Baileys
50ml Kahula
4 medium egg whites
2 tablespoons of double cream
         Brandy Sauce
30g caster sugar
150ml of water
50ml brandy
200ml double cream
dash of calvados (optional)
This makes enough mousse to serve ten people.
Line a 450g loaf tin with cling film, or serve in small bowls or coffee cups
Place the chocolate, cocoa, butter, espresso, Baileys and Kahula in a bowl over a pan of simmering water. When the chocolate has melted, gently stir and remove from the heat.
Whisk the egg whites until they form stiff peaks, and in a another bowl do the same with the double cream, so that it forms peaks. Then gently fold into the chocolate mixture first the egg whites then the cream. When thoroughly blended, pour the mixture into the loaf tin or bowls.
Chill well overnight.
Make the sauce also a while before you are going to serve this dessert. It takes around ½ hr. to make and also needs chilling before use.
Put the sugar and the water into a small saucepan. Heat gently so that the sugar dissolves. Boil for around 20 mins, until you have a golden caramel. Stand back as you add the brandy, as it will spit and sputter, so do take care. Then stir in the cream, and cook for a further 5 mins. You can also finish with the Calvados before chilling.
To serve, turn out the mousse, then use a knife dipped in hot water to cut it into portions.
Serve with a spoonful of the brandy sauce.
For more French chilled dinner party desserts including a light chocolate soufflé, rich chocolate brulees and sophisticated chocolate sorbet.
Click here for a recipe for a French chocolate mousse cake.
Recipes to be added white chocolate mousse recipe.

Return from chocolate mousse recipe page to best chocolate recipes online home page.