Chocolate muffin recipe that is easy to make.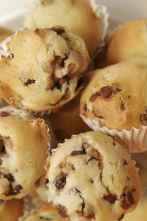 A variety of recipes that include a basic chocolate muffin recipe and then exciting variations to impress and enjoy! 
For example the basic recipe is followed by a one that has both white chocolate chips and milk chocolate chips.

While the last recipe is made with white chocolate chips and oozes with strawberry jam.
Basic recipe with chocolate chips
Ingredients
115g butter at room temperature
70g caster sugar
2 eggs at room temperature
215g plain flour
1 teaspoon baking powder
125ml milk
170g plain chocolate chips
Preheat oven to 375F, 190C gas 5
Grease ten muffin cups, or use paper cases.
With an electric mixer, cream the butter until soft. Add both sugars and beat until light and fluffy. Beat in the eggs one at a time.
Sift together the flour and baking powder, twice.
Fold into the butter mixture, alternating with the milk.
Divide the mixture between the muffin cups.
Sprinkle the chocolate chips on top of each muffin batter, then spoon over some more muffin batter to cover.
To ensure even baking - half fill any empty cups with water.
Bake until lightly coloured, - about 25 minutes. Let the muffins stand to cool for 5 minutes before turning the chocolate muffins out of the tin to cool further.
Triple choc chip muffin
Ingredients
400g plain flour
15ml baking powder
30ml cocoa powder
115g dark muscovado sugar
2 eggs
150ml soured cream
150ml milk
60ml sunflower oil
175g white chocolate, chopped into small pieces
175g plain chocolate, chopped into small pieces
Preheat oven to 350F, 180C gas 4; place 16 muffin cases in a muffin tin.
Sift the flour, baking powder and cocoa into a bowl and stir in the sugar.
Make a well in the centre.
In a separate bowl, beat the eggs with the soured cream, milk and oil.
Pour the liquid mixture into the well of the flour mixture. Beat well, slowly incorporating the flour until you have a smooth, thick and creamy batter mixture.
Stir the white chocolate and plain chocolate pieces into the batter mixture.
Spoon into the paper muffin cases, filling almost to the top.
Bake for 25 to 30 minutes, until well-risen and firm to the touch, then remove from the oven.
Let the triple choc-chip muffins stay in the tray and cool on the side before removing the muffins from the tray. Then place on a wire rack.
Enjoy chocolate and fruit? Then try the strawberry and white chocolate chip muffin here or go to rich fruity chocolate muffin page.
For other recipes go to chocolate muffin recipe page.
 Strawberry and white chocolate chip muffins
Ingredients
225g plain flour
2 teaspoons baking powder
pinch of salt
100g granulated sugar
125g butter, melted
125ml milk
1 large egg
½ teaspoon vanilla essence
270g white chocolate chips
160ml strawberry jam
Preheat the oven to 350F, 180C, gas 4. Prepare a 12-holed muffin tin with muffin paper cases.
Sift the flour, baking powder and salt into a large bowl, then stir in the sugar.
Beat the butter, milk, egg and vanilla in a medium bowl, until well blended.
Stir the liquid mixture into the mixed dry ingredients, and mix well until a smooth batter is formed. Add in the chocolate chips.
Spoon in some batter until each of the muffin cases is half full. With a spoon, indent a small hole in the batter, and then spoon in a teaspoon of jam. Cover with remaining batter till each muffin is covered to nearly the top of the muffin case.
Cook in the preheated oven for 25 - 30 minutes, until a skewer comes out clean. Cool the white chocolate muffins on a rack.
For more chocolate muffin recipes go to chocolate chip muffin recipe page.
Or go to rich fruity chocolate muffin recipes page.

Leave chocolate chip recipe page and go to best chocolate recipes online home page.