Homemade chocolate truffles recipe.
A chocolate truffles recipe based on sponge cake crumbs is easier to handle than the classic chocolate and cream mixture on the classic chocolate ganache truffles page.

So, if you are just setting out making chocolate truffles, this quick easy chocolate truffles recipe is an ideal introduction to working with chocolate. You never know, you could even get to like them!
If you already love chocolate marzipan candies go to chocolate marzipan candy recipes page.


Quick and easy chocolate truffles
Makes 24 truffles
Remember to use the best chocolate you can, and couverture when possible, particularly if you know how to temper chocolate.
Ingredients
125g plain chocolate
50g unsalted butter
125g trifle sponge cakes, crumbled
50g icing sugar
25ml dark rum, brandy, or liqueur of your choice, - go to chocolate martini recipe page for some more chocolate liqueur combination ideas.
50g cocoa powder, icing sugar or chocolate vermicelli - for your choice of chocolate truffle covering.
Melt the chocolate with the butter. Stir in the cake crumbs, icing sugar and spirit or liqueur of your choice.
Cover and refrigerate for about 30 minutes or until the mixture is firm enough to handle.
Dust your fingers with icing sugar and roll the truffle mixture into 24 small balls, then roll each one in the cocoa powder, icing sugar or chocolate vermicelli to coat completely.
Arrange the truffles in petit four cases, and then chill in the refrigerator until required.
Remove from the fridge 30 minutes before serving.

Cream chocolate truffles recipe,
- this is a buttery-creamy chocolate truffle recipe
Encase your fresh chocolate truffles in any of the couverture chocolates that you love. White, milk, or dark chocolate - all delicious with this basic vanilla-chocolate truffles recipe.
This recipe makes about 45 chocolate truffle sticks of 2.5cms (1")lengths.
Ingredients
150ml double cream
1 vanilla pod
1 egg yolk
25g caster sugar
150g plain chocolate, broken into pieces
25g unsalted butter, softened
150g couverture chocolate
Place the cream and the vanilla pod in a small heavy-based saucepan. Bring to the boil, cover, and remove from the heat.
Leave the mixture to infuse for 20 minutes.
Remove the vanilla pod.
Whisk the egg yolk with the sugar until very pale and thick.
Whisk the egg mixture into the cream mixture and return to a low heat. Heat gently, without boiling, until the mixture begins to thicken, stirring all the time.
Remove from the heat.
Add the plain chocolate and stir until completely melted. Refrigerate the mixture for about one hour until firm.
Using an electric whisk, whisk the softened butter into the chocolate cream mixture
Spoon the mixture into a piping bag fitted with a 1cm nozzle and pipe 2.5cm lengths onto a flat baking sheet or plate.
Freeze for about an hour.
To decorate the truffle mixture, temper the chocolate, and use it to coat the truffle sticks, half in white chocolate, half in milk. If the truffles are kept hard frozen, you could dip them.
Alternatively, pour melted chocolate over them. This is a nice idea - make milk chocolate and white chocolate truffles and then coat in a contrasting chocolate, then you can decorate the truffles with a contrasting melted chocolate - dribbled in stripes over the truffle from a spoon. To make raised ridges just draw a fork across the chocolate coating surface before it sets.
For some other ideas to try, why not decorate these truffles by placing a whole almond, or flaked toasted almonds sprinkled on top? Or your favourite candied fruit? Or....what you you like?
Keep in the fridge until the truffles are set, until required.
Rum milk chocolate truffles recipe
Makes about 60 truffles
Ingredients
200ml whipping cream
225g milk chocolate, finely chopped
5 tbsp dark rum
Boil the cream and pour over the chopped chocolate. Stir until all the chocolate has melted.
Stir in the rum. Allow the chocolate truffle mixture to cool for a while, and then follow the basic truffle instructions.
You can cover these in either dark or milk chocolate couverture. Melt the chocolate and dip into the chocolate using a fork, or a proper dipping fork if you have one. It's best to use a wide shallow bowl when dipping chocolate truffles.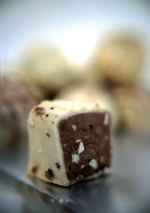 Ivory with pistachio and cardamom chocolate truffles recipe
Ingredients
The seeds of 4 large pods of cardamom
200ml whipping cream; you can use double cream for a richer texture.
225g ivory couverture, finely chopped
55g of pistachio nuts, ground in the food processor, but do not over-process - roughly chopped is fine; if over-processed, the oils in the nuts will quickly go rancid. The released oils may also affect the making of the chocolate ganache.
In a mortar, lightly bash the cardamom pods till the seeds come away from the pods. Discard the pods, and give the seeds a bashing in the mortar, until well processed.
With the cream in a saucepan on a medium heat, add the crushed cardamom and bring to the boil. In a heatproof bowl, pour the hot cream over the chopped chocolate. Stir well until the chocolate is melted and mixed well in. Stir in the pistachio nuts.
Leave to cool for about 1 hour. Follow the instructions for chocolate truffles recipe on the other page.
Either dip in melted tempered couverture chocolate or coat with some of the other suggested coatings for your chocolate truffles recipe, like cocoa powder or vermicelli.
Easy chocolate truffles recipe with hazelnuts
Crumbs from a plain Victoria sponge cake are best for this recipe, but any cake crumbs could be used.

Ingredients
125g shelled hazelnuts
125g plain chocolate
75g diced softened butter
150g cake crumbs
30ml icing sugar
30ml rum or brandy
Cocoa powder for coating
Toast the nuts under a grill until brown.
Tip the toasted nuts into a clean tea towel and rub off the skins. When cold, grind the cleaned hazelnuts in a mill or food processor until roughly chopped.
Melt the chocolate. Cool slightly, and then stir in the butter until evenly blended. Add the nuts with the cake crumbs, icing sugar and rum or brandy to taste.
Chill the mixture in the refrigerator until firm, then roll into small balls and place on a baking sheet lined with wax paper.
Cover and refrigerate until firm, then coat lightly in cocoa powder and return to the refrigerator until required.
These chocolate truffles soften quickly at room temperature.
Go to this page for more chocolate truffle recipes.
If you love chocolate marzipan candies go to chocolate marzipan candy recipes page.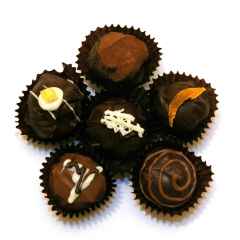 Leave chocolate truffles recipe page and go to best chocolate recipes online home page.