Chocolate marzipan candy recipes.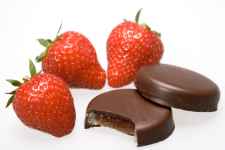 A chocolate marzipan candy with strawberries - a marriage made in heaven. Imagine how simple they are to make. Using a mould, melt the chocolate, spoon a teaspoon of strawberry jam (with kirsch!) Then cover with melted chocolate - what could be easier?
Well, chocolate truffle recipes are easy too!
If you love home-made chocolate truffles go to chocolate truffles recipes page.
Or for fresh ganache chocolate truffles go to chocolate candy truffle recipes page.
But for now - here are some more chocolate marzipan recipes to create at home. They show how to work with marzipan and let your imagination run wild when making chocolate marzipan candies.
Chocolate marzipan candies
Ingredients
This is enough to make 24 marzipan candies.
225g of ready-made marzipan
225g couverture chocolate for dipping, choose your favourite dark or milk chocolate.
Decoration - try walnut halves, hazelnuts roasted almonds, chopped.
Roll out the marzipan. If too cool and difficult to work with, allow to warm, or knead until pliable enough to roll easily, before preparing to make your own chocolate marzipan candies.
Create each chocolate marzipan by cutting into squares or rounds, using icing sugar for dusting to stop the marzipan from being sticky; (so cut squares, roll into circles, then into marzipan balls.)
Form 24 marzipan balls from the cuttings.
Leave to dry for 12 hours on waxed paper.
Using a fork, preferably a candy fork, as these have a longer handle. Dip each marzipan piece into the melted chocolate. Allow the drips to fall, before replacing the covered marzipan candy onto waxed paper.
Before the marzipan candies set, top or roll each marzipan candy in the covering of choice or place with the nuts, as desired, on top.
Leave to set.
Ginger and hazelnut marzipan candies
Makes 16 chocolate marzipan candies.
Ingredients
225g of ready-made marzipan
1 teaspoon honey
30 glace ginger, finely chopped
30g hazelnuts, chopped and toasted
115g plain or milk chocolate couverture
Knead the marzipan until pliable. Add honey, ginger, and hazelnuts and mix until evenly distributed through the marzipan.
A good way of adding liquids or the honey to marzipan is to make a ball and then push in a well or dip in the middle. Place the liquid in the middle and then gently cover over the well and carefully continue to knead the marzipan - keeping the liquid inside.
Dust working surfaces with icing sugar, and then roll the marzipan to 2cm diameter log or sausage.
Cut the marzipan into 1cm thick slices and place on waxed paper to dry for 12 hours.
Melt the chocolate, then using a fork dip the slices in the chocolate, but cover only up to the top edge of the circle, with the chocolate thereby covering the base and the sides of the chocolate candy.
Place on waxed paper to set. Refrigerate until the chocolate candies are needed.
Other ideas for creating your favourite chocolate marzipan candy: make marzipan candies with glace cherries, or add a liqueur of your choice, just substitute honey for liqueur and ginger for the cherries. You could also try liqueur soaked fruits. Try rum soaked sultanas or raisins. Soak the fruit in the liqueur overnight.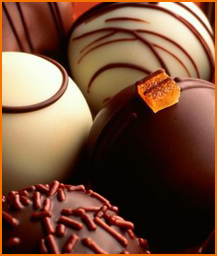 If you love home-made chocolate truffles go to chocolate truffles recipes page.
Or for fresh ganache chocolate truffles go to chocolate candy truffle recipes page.
And did I say let your imagination go wild with chocolate and marzipan, well how about this? Chocolate marzipan hedgehogs! Really go wild.
Marzipan is an easy food to colour and shape so color marzipan with brown food coloring, shape and then roll the larger round end in some chocolate shavings or chocolate curls.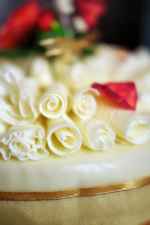 ---
Leave this chocolate marzipan candy page and go to best chocolate recipes online home page.